Who are we?
We are a diverse passionate bunch of people who have dedicated our careers to developing ourselves so we can be in the best possible position to develop others.
Steven Dalgety
General Manager
Steve is passionate about developing business and individuals to be able to achieve their goals. Steve has over 20 years of business experience, 14 years in London, gaining valuable experience in working with small business, providing the tools to grow and helping them to realise their potential to succeed. He has also worked extensively with large corporates, enabling them to enhance their business and strategic direction.
Steve has been part of Senior Management teams for the last 13 years with businesses that work with multiple industries such as local Government, not for profits and a variety of both small and large corporates, this has given Steve the skills and experience to work with people from a wide range of business and job roles.
Excellence in customer service, forming strong lasting relationships and working strategically with clients to pursue and achieve excellence is what inspires Steve.
With his expertise in building both brand and profile awareness across multiple industry sectors, knowledge of marketing capabilities and the desire to overcome challenges ensures Steve is always striving to help develop and grow individuals, teams and business.
Bridget Jelley
Registered Psychologist/ Director
B.A Linguistics, Grad Dip Psychology, M.A Psychology, Post Grad Dip Professional Practice in Psychology
Bridget's passion is to help make work places great by blending the field of psychology with the art of business. Bridget draws from various philosophical underpinnings to produce successful outcomes for individuals, teams and organisations. She is a member of the New Zealand Psychological Society and is registered with the New Zealand Board of Psychologists.
Bridget has worked with business leaders and their teams throughout New Zealand and internationally. She has experience of delivering training and coaching across a broad range of industries; from mining to government and the private sector. Bridget operates from a bi-cultural framework and endeavours to always incorporate kaupapa Māori perspectives in her work.
As a registered Psychologist with a background in business, and experience of providing support to populations experiencing a range of mental health and social concerns, Bridget is uniquely placed to deliver appropriate and effective training across all levels of business in the areas of change management, resilience, well-being psychosocial safety, leadership, and corporate coaching.
Bridget is experienced in applying a variety of approaches including: Cognitive Behavioural Therapy, Acceptance and Commitment Training, Dialectical Behavioural Therapy, Solution Focused Coaching, Positive Psychology, Mindfulness, and Meditation.
With a warm, energetic and practical approach to her work, Bridget engages her clients through experiential learning, allowing for those light bulb moments to occur and clarity to be gained.
Seth Heynes
Intern Business Psychologist
BSocSci (Psychology), Masters of Applied Psychology (Industrial/Organisational)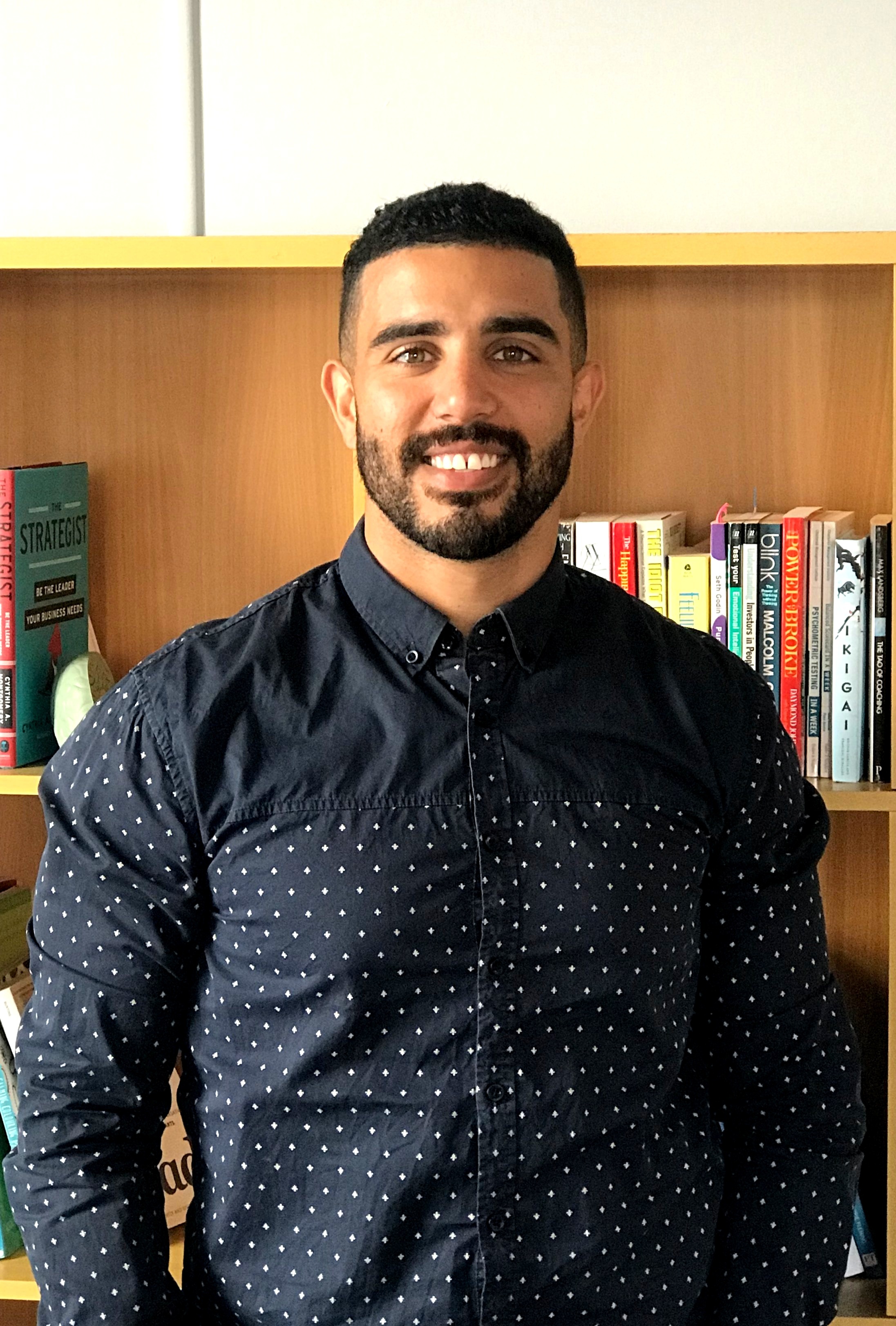 Seth's role will be largely focused on service delivery for The Effect, managing relationships and generally making sure that we deliver the best solution possible for all our clients. Additionally, he will be involved coaching, facilitating and training from an Organisational Psychology perspective and will be undergoing formal training to becoming a registered New Zealand Psychologist.
Seth has experience in the corporate space as well as Councils and District Health Boards. His discipline is Industrial/Organisational Psychology with areas of specialty within Psychological Risk Assessment for organisations as well as training and facilitation. Using what psychology tells us about psychological health, he works with companies to understand their risks and works with them to enable long term strategies to be embedded through the organisation. He is passionate about incorporating multi-cultural perspectives into his work.
He holds a Masters Degree in Applied Organisational Psychology where he has particular interests in, Psychological Risk Assessment, Leadership and Team Performance as well as Psychometric testing including personality testing (OCEAN).
Denise Overend-Clarke
Business Facilitator
Diploma in Sports Studies, Bachelor of Arts Psychology
Denise focuses on closing the gap between what people know and what they do. Her passion is in facilitating learning and coaching performance, helping people find practical solutions to increase success in their lives.
With a background in owning and managing small business, Denise has been involved in business facilitation since 1999 and has gained a reputation for her ability to communicate ideas clearly, effectively and with resonance. Her style is dynamic and interactive as she believes learning should be enjoyable and effective with results evident in people's lives.
Denise's expertise includes time management and personal effectiveness, communication skills, and emotional intelligence in leadership, and she is a qualified practitioner in Jungian Psychological Type (Myers Briggs Type Indicator) and our exclusive suite of work, The Human Element. She is a group fitness instructor for Les Mills and has a diploma in Sports Studies, certificates in Adult Teaching and Literacy and Numeracy, and a BA Psychology.
Ance Strydom
Coach, Facilitator, Reseacher
Masters of Applied Psychology (Organisational)
Ance is a coach and facilitator who works with organisations to support employees in bringing their best qualities to their roles through a particular focus on employee engagement and wellness, interpersonal skills, self and other awareness, and personal resilience. Ance is passionate about people, serious about taking an evidenced-based approached, and an aspiring know-it-all to boot.
Ance believes that a healthy work environment is built on respectful and robust working relationships, and that means paying attention to the 'people stuff'. There is no getting around it, but it needn't feel awkward or forced! To the contrary, tapping into emotions, attitudes, assumptions and beliefs - all the 'soft stuff' so unique to humans - can turn your relationships, and ultimately your culture, around.
Ance considers her most challenging and rewarding work to date as working within the Waikato District Health Board to grow and embed a culture of psychological and physical staff safety. A key learning has been that organisations, rather than being static structures, are living, continuously evolving entities and that creating a desirable culture therefore requires focussed and consistent effort.
Ance holds a Master of Applied Psychology in the area of Organisational Psychology from the University of Waikato, along with certifications in psychometric assessment. Her professional background includes experience in the areas of research, data collection and analysis, organisational culture, organisational development, employee well-being and learning and development, and personal efficiency coaching.
Ance has four years experience in supporting people in identifying and developing behavioural competencies and professional skills. This gives her the ability to offer input into a wide range of queries related to the services offered by The Effect team. She is also a self-professed research nerd who likes to know her stuff!
Stacey Bowden
Facilitator/Registered Psychologist
Masters of Social Sciences (Honours) Psychology
Stacey is a Registered Psychologist and holds a Masters of Social Science (majoring psychology). She is passionate and competent in working with group dynamics, motivating and coaching change behaviour as well as assessment and treatment of dysfunction and mental health issues. Stacey enjoys inspiring individuals and organisations to reach their full potential. A favourite whakatauki (quote) of Stacey's is "from a small acorn, a mighty oak can grow".
Stacey's professional career has provided experience in educational psychology, Corrections, mental health diagnosis and treatment, leadership roles, Tikanga Maori and grief counselling. Stacey also has a background in owning and managing small business.
She has an empathetic style and client centred approach which allows others to share vulnerabilities and recognise their inner strengths. She is well versed in conflict resolution, effective communication, team building, group facilitation and individual counselling. Stacey believes people learn best when they are actively involved in the process and this is reflected in her facilitation approach.
Bob Weir
Business Facilitator
Bachelors of Engineering, Masters of Business Administration Finance, Diploma of Psychology - in progress
Bob has over 30 years experience in business in New Zealand, Australia and other countries. After graduating as an engineer he spent most of his career in managerial and leadership positions, the last as an executive general manager in one of the large NZ power companies. In this role he was responsible for some 400 staff, multi billion dollar revenues, plus hedge trading activities. Bob has sat on numerous boards throughout his career and is currently on three boards, one as Chair.

In the last five years Bob has run a small business providing advice and support to hundreds of small business, from many industries in the Waikato, through one-on-one advice, coaching, and training forums. Bob is the author of two small business books, "Under 5 Small Business Guide" and "Success Made Small" and is finalising a third titled "Why Businesses Fail".

Bob has an MBA in finance, executive leadership training at Columbia University in New York and is trained under the International Coaching Federation . He is also qualified to deliver eDISC profiles.

Bob is passionate about bringing out the best in people and businesses, through coaching advice, training and bringing the best research into business in a practical, achievable way.